Job Application
The fields marked with * are mandatory
We are currently accepting applications for Part-Time positions in our Roanoke,VA location.
Job Requirements:
- 15-25 hours per week
- Flexible schedule, must be able to work nights and weekends
- Retail experience
- Friendly and outgoing personality
Ways to apply:
1. Fill out the form below and submit your application online.

2. Print an application and turn it into one of our locations.
Click the link to print your application -> http://bcsportsva.com/BCJobApplication.pdf
3. Print an application and mail it in.
Mail your applications to the address below:

B&C Sports Office
3405 Candlers Mt Rd
River Ridge Mall
Lynchburg,VA 24502

4. Print an application and fax it.
Fax number 434-316-7176
If you have any questions you can email us at bcdealers@aol.com or contact us at 434-316-7176.
Below are our current stores and their locations:
River Ridge Mall
3405 Candlers Mountain Rd.
Lynchburg, Va 24502

Valley View Mall
4802 Valley View Boulevard Northwest
Roanoke, Va 24012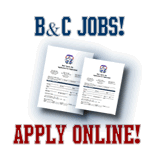 Enter your Customer Number to Check Your Wrapper Redemption Points!
Enter Your Customer # in the Search Below